SKOPJE AIRPORT 7TH TIME WINNER OF ASQ AWARD FOR THE BEST AIRPORT BY SIZE IN EUROPE & FOR THE BEST HYGIENE MEASURES IN EUROPE BY ACI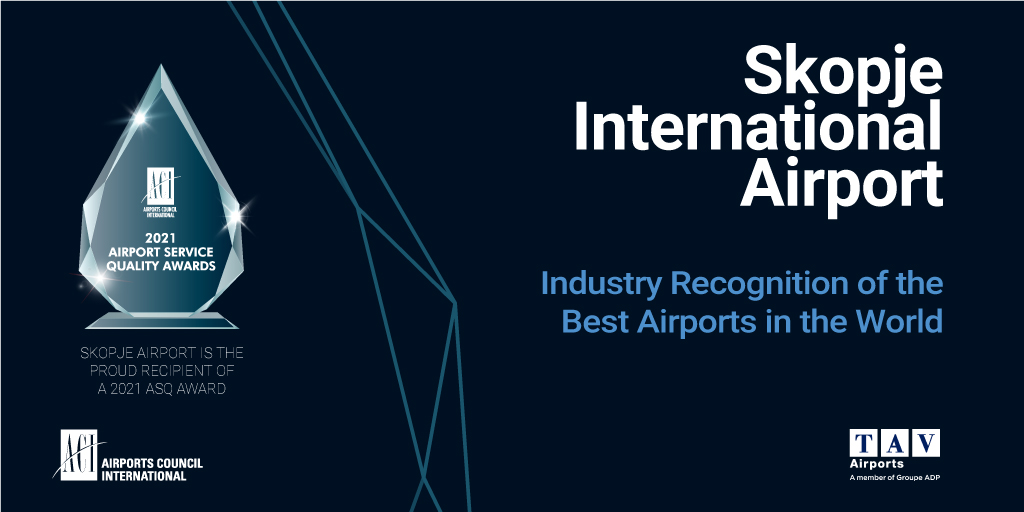 Skopje International Airport, operated by TAV Macedonia is awarded by Airports Council International World (ACI) with the Airport Service Quality (ASQ) Award as the Best Airport by Size and Region (2 to 5 million passengers per year in Europe) and the Best hygiene measures by region (Europe) for 2021.
Airports Council International (ACI) World has today revealed the recipients of this year's Airport Service Quality (ASQ) Awards, which celebrate and showcase the world's best airports as voiced by travelers.
This is the 7th time Skopje Airport is awarded as the Best Airport by Size in the region of Europe. TAV Macedonia received the previous ASQ Awards for Skopje Airport for 2020, 2019, 2018, 2015, 2013 and 2012.
"This is the seventh time that we receive such great news that Skopje International Airport has earned the ACI's ASQ Award as the Best Airport by Size and Region and the second time in a row since last year for the Best hygiene measures by Region for 2021. We are delighted that Airports Council International has awarded Skopje Airport, because these awards and recognitions are proof for our exceptional efforts in such an extraordinary time, since 2021 was a year when we were still strongly facing the effects of the global pandemic. However, our passengers and customers have proven and confirmed our commitment, hard work and dedication once again. We are grateful, proud, and privileged because of their positive evaluation of our work, especially if we consider the challenges due to the current circumstances. This 2021 ASQ Award by ACI is another acknowledgement to all our staff and recognition of their everyday efforts and dedicated work to provide the best possible services and to achieve to meet the needs of our passengers and customers. At this point, let me mention and express my appreciation also to our sister companies and their staff – ATU (Duty Free Shop), BTA (Food & Beverages), TAV MOS (Primeclass & Commercial services) TAV Technologies (IT services), and Euroclean (Cleaning services) that provide services and additional value to the airport experience to our customers. Finally, I would like to outline that TAV Macedonia, as an airport operator with its top priority being the passengers and their best travel experience through our airports, will continue to meet the expectations of the customers and to improve the services provided at the airports to achieve new higher levels of customer satisfaction.", stated TAV Macedonia General Manager, Metin Batak.
Airports around the globe have continued to prioritize listening and adapting to the evolving needs of their customers through ASQ surveys despite the ongoing crisis. In 2021 with evolving health measures and a new set of expectations affecting how the airport experience is delivered and experienced, COVID-19 pandemic continued to have a major impact on passenger traffic.
"Congratulations to Skopje International Airport on winning Best Airport by Size and Region (2 to 5 million passengers per year in Europe) and Best hygiene measures by Region (Europe) for 2021 which clearly demonstrates that they are prioritizing their customers during a very difficult year when ensuring their voices are heard is crucial. This achievement represents Skopje International Airport commitment to consistently delivering an outstanding experience in the opinion of their customers", ACI World Director General Luis Felipe de Oliveira said.
As a participant in the ASQ Survey Program, Skopje International Airport competes with airports in the same size – from 2 to 5 million passengers annually and in the same region – Europe, thus in 2021, this ASQ Survey-panel consisted of a total of 11 airports: Madeira Airport, Krasnoyarsk Airport, Menorca Airport, Santiago Airport, Skopje Airport, Sola Airport, Tbilisi Airport, Tallin Airport, Vaernes Airport, Torino Airport, and Zagreb Airport.
The ACI ASQ initiative is unique as the airport industry's only global benchmarking program measuring passenger satisfaction while passengers are at the airport. Implemented at close to 400 airports worldwide, the ASQ program delivers an in-depth assessment of the quality of the customer service experience. The resulting database allows for a comprehensive analysis of the customer service experience at each participating airport. This year's results recognize ASQ Award winners as being the world's best airports for the quality of their customer experience.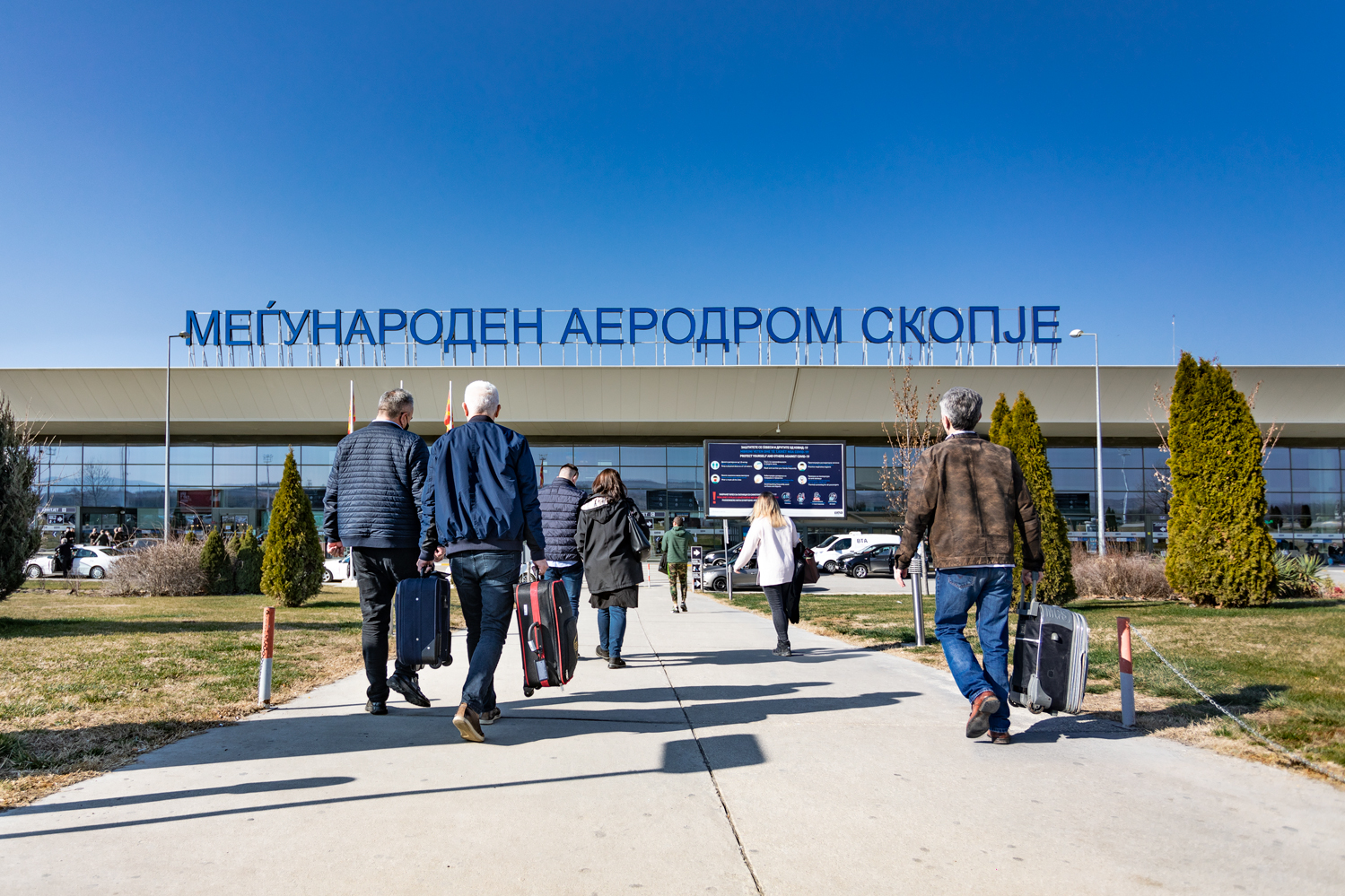 The new health and hygiene related questions added to the survey questionnaire in 2020 allow airports to better understand the customer response to new health measures related to COVID-19 and the corresponding award category recognizes airports that have successfully responded to them in the eyes of travelers.
From the data collected in 2021 from over 370,000 surveys, 111 awards have been won by 88 individual airports around the world. The award categories include Best Airports by Size (passengers per year) and Region, as well as Best Hygiene Measures by Region, of which there are 46 winners.
Despite the challenges still posed in 2021 by the pandemic, airports managed to collect over 370,000 surveys from their customers throughout the year and 111 awards have been won by 88 individual airports around the world.
TAV Macedonia for the first two months of 2022 notes total of 215.227 passenger at both airports, Skopje International Airport and Ohrid St. Paul the Apostle Airport, with decrease in the total number of passengers by 29%, compared to January and February statistics in 2019, as a referent year, while compared to 2021 the statistics show positive trend in number of passengers increase.