TAV: 1,6 MILLION PASSENGERS TRAVELED THROUGH MACEDONIAN AIRPORTS IN THE FIRST 9 MONTHS
A total of 1,6 million passengers (1.546.193) traveled through both Macedonian Airports - Skopje International Airport and Ohrid St. Paul the Apostle Airport, in the first 9 months of 2017, which is an annual increase of 12% compared to the same period in 2016, reports TAV Macedonia.
Both airports from January until September 2017, served a total of 13.752 flights, which is an annual rise of 6%.
-The increase in passenger's traffic continued in 2017. Although in the first half of the year we had relatively smaller increase, after launching 4 new routes from Skopje Airport, and the new seasonal flight from Ohrid Airport, in the second half of the year, the double digit traffic figures in passenger's number were marked again. We expect to finish 2017 with a solid rise in number of passengers. As an airport operator TAV Macedonia will continue to promote Skopje and Ohrid Airports to airlines and tour- operators, in order to enable new destinations and new routes for our passengers. Some of the most recent marketing activities of TAV Airports Marketing Department were the visit of World Routes in Barcelona at the end of September, while in this past few days we hosted a group of Italian journalists on their touristic visit of Macedonia, that should result with promotion of Macedonia as a travel destination on the Italian market, stated Alper Ersoy, TAV Macedonia General Manager.
Ersoy explains that along with the route network development, TAV Macedonia also continues to extend the range of airport services and to improve its quality, in order to achieve greater passenger's satisfaction.
According the TAV's statistics for the passenger's traffic in the first 9 months, Istanbul (12,4%) is the most frequent destination from Skopje Airport, followed by Zurich (8,7%), Vienna (6,8%), Basel (5,1%), Malmo (4,6%), and London (3,9%).
Regarding airline's share in passenger traffic, Wizz Air transported the largest number of passengers with 57,5% market share, followed by Turkish Airlines (8,5%), Austrian Airlines (6,8%), Germania Flug (5,1%) and Pegasus Airlines (4,5%).
Skopje Airport has recorded its busiest August until now, handling 216.409 passengers, with 23,7% increase in passenger traffic and 22,4% increase in number of flights, achieving its traffic figures record by now, which was supported by sports event – UEFA Super Cup.
7th of August – Monday, was the busiest day at Skopje Airport in this 9 months period, when a total of 8.283 passengers were transported by 98 flights.
Five new destinations were launched from Skopje Airport this year. In April the new route to Budapest was opened, while in July the routes to Rome, Malta, Vaxjo and Doha were launched. At the same time Wizz Air based its 4th aircraft at Skopje Airport, while Qatar Airways as a new airline brand entered the Macedonian market. At Ohrid Airport, the new destination Katowice was launched, opening Poland as a new market for incoming passengers.
TAV Macedonia with the support of TAV Airports Marketing Department from Istanbul will continue to promote Macedonian Airports and Macedonia as a travel destination, at all relevant world aviation and tourism conferences and fairs, in order to attract new airlines and new tour-operators to enter the Macedonian market, while at the same time convince the existing ones to extend their destinations and frequencies from Skopje and Ohrid.
Part of the marketing activities undertaken by Istanbul Marketing Department this year, were the organized touristic visits of Macedonia for the Turkish travel bloggers in May 2017, Polish journalists in July 2017, and the latest tour this month- for the Italian journalists.
Useful Information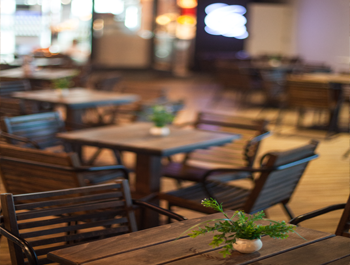 Shopping & Dining
See the full range of shops in our shopping universe. At the airport you'll find a great selection of shops within fashion, electronics, design and souvenirs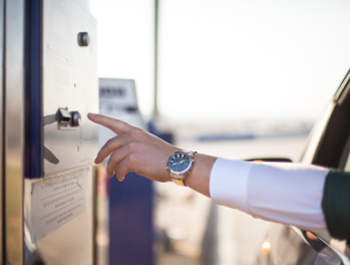 Parking
Your way to a secure parking space! Benefit from the attractive online parking offers of Skopje International Airport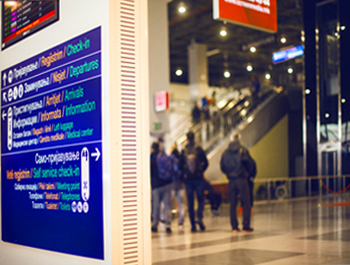 Flight Information
Real-time information of arrival and departure flights at Skopje International Airport
Frequently Asked Questions
There is regular shuttle bus to/from Skopje International Airport for passengers that drives and stops at key bus stops throughout the City of Skopje and arrives at the airport. V2V Transporter manages and operates the shuttle buses for passengers. The shuttle bus timetable is prepared according to the arrivals/departures of flights at Skopje International Airport. One way ticket for the shuttle bus costs MKD 199. You can find more information in Passenger guide section on our the webpage, or click Bus.
Skopje International Airport operates 24/7. Restaurants and cafes such as Cakes & Bakes, Café In, Burger King and NeedStop are available for the passengers at any time; business lounge (PrimeClass CIP Service) offers you comfort 24/7, while ATU Duty Free is opened as per the flights timetable and offers wide range of products.
Check-in at the passenger and baggage check-in counters starts 180 minutes (3 hours) before the scheduled time of departure (STD) specified on your flight ticket. The closing time of the airport check-in counter is no later than 60 minutes before STD stated on your flight ticket.
Since the beginning of COVID–19 pandemic, due to the requirements for different travel documents imposed by different countries, TAV Macedonia appeals to passengers to arrive at the airport 3 hours before take-off.
For information about your flight, please follow Skopje International Airport website, in the Arrivals and Departures section, where all changes to the flights schedule are updated in real time, i.e., as we receive information by airlines.
If you need urgent additional information about your flight, you can call Skopje International Airport Information Desk on the phone number: +38923148333, it is open 24/7.
Passengers are allowed to carry on board free of charge items such as coat, 1 umbrella or walking stick, 1 ladies handbag, 1 camera or binoculars, 1 baby transporter, 1 pair of crutches or similar prosthetic aids, medical equipment on which the passenger is fully dependent, a reasonable quantity of baby food.
Regarding the baggage fees amount, please contact your airline, because each airline has its own baggage policy and applicable rules.
If you have any specific question about what you can or cannot carry, i.e. allowed/prohibited items, in your baggage, please send your question to our Customer Relations Department at customer.mk@tav.aero.
In case of lost or damaged baggage, please immediately go to the Lost & Found Department, which is located near the baggage claim area, i.e. in the Arrivals Area after Passport Control and before Customs Control.
Our employees from L&F will prepare a lost/damaged baggage report for you, that you'll later on send it to your airline. If you need to contact the Lost&Found department, please write us on: lostbaggage@tav.aero
For lost or found items on the plane, please contact us at the same email: lostbaggage@tav.aero
If you lose or find a personal item in the airport building, please report it immediately either to the Information Desk or to the Security staff, while if you have already left the airport, please write to us at lost.property@tav.aero
All details at:
http://skp.airports.com.mk/.../airport.../page/lost-luggage
Yes. Since 2015 TAV Macedonia has introduced free Wi-Fi internet at Skopje International Airport, which was upgraded in 2019. Passengers can access free internet through their mobile devices by simply connecting to a wireless network called TAV Airports, password is not required.
You can park your vehicle in our parking lot without prior reservation. This service is available 24/7 at Skopje International Airport.
Car Park Pricelist:
1h – MKD 100
2h – MKD 150
3h – MKD 200
4h – MKD 250
4-8h – MKD 500
8-24h – MKD 850
3-7 days – MKD 2500
8-14 days – MKD 3500
15-30 days – MKD 5000
For more information on parking services, please click on Parking.
Yes. At Skopje International Airport there are specially designated, marked parking lots for persons with disabilities and the car park services are free of charge within 24 hours. By enclosing the traffic license and the disability identification card at the Car Park Payment Counter, located inside the terminal building, our employees will cancel the car park ticket and the person with disability will be automatically exempt from paying for the car park service. If all designated parking lots for persons with disabilities are occupied, park your car on a regular parking lot, and following the above stated procedure you will be exempted from paying for the car park services.
For more information on parking services, please click on Parking or visit Passengers with disabilities.
Yes. At Skopje International Airport there is a Special Assistance Service for passengers with reduced mobility (PRMs). The counter where you can ask for this free of charge service is located inside the Terminal building, next to the Information Desk. Passenger with Reduced Mobility (PRM) means any person whose mobility is reduced due to physical incapacity (sensor or locomotor), intellectual deficiency, age, illness, or other cause of disability.
Yes. There is a smoking room at Skopje International Airport, which is located in the security-restricted area, airside. The smoking room is located next to Gate number 201, i.e., on the left side after you pass passport control and security screening.
In addition to the smoking room, passengers can use the open terraces of the cafeterias located at the entrance to the terminal building of the airport.
Smoking is prohibited in all other areas of the terminal building.
For general question or inquiry that does not require immediate response, or if you have any other complaint or compliment, please send an e-mail to customer.mk@tav.aero. This is our Customer Relations Department, which will respond to your inquiry accordingly as soon as possible..